The Gambia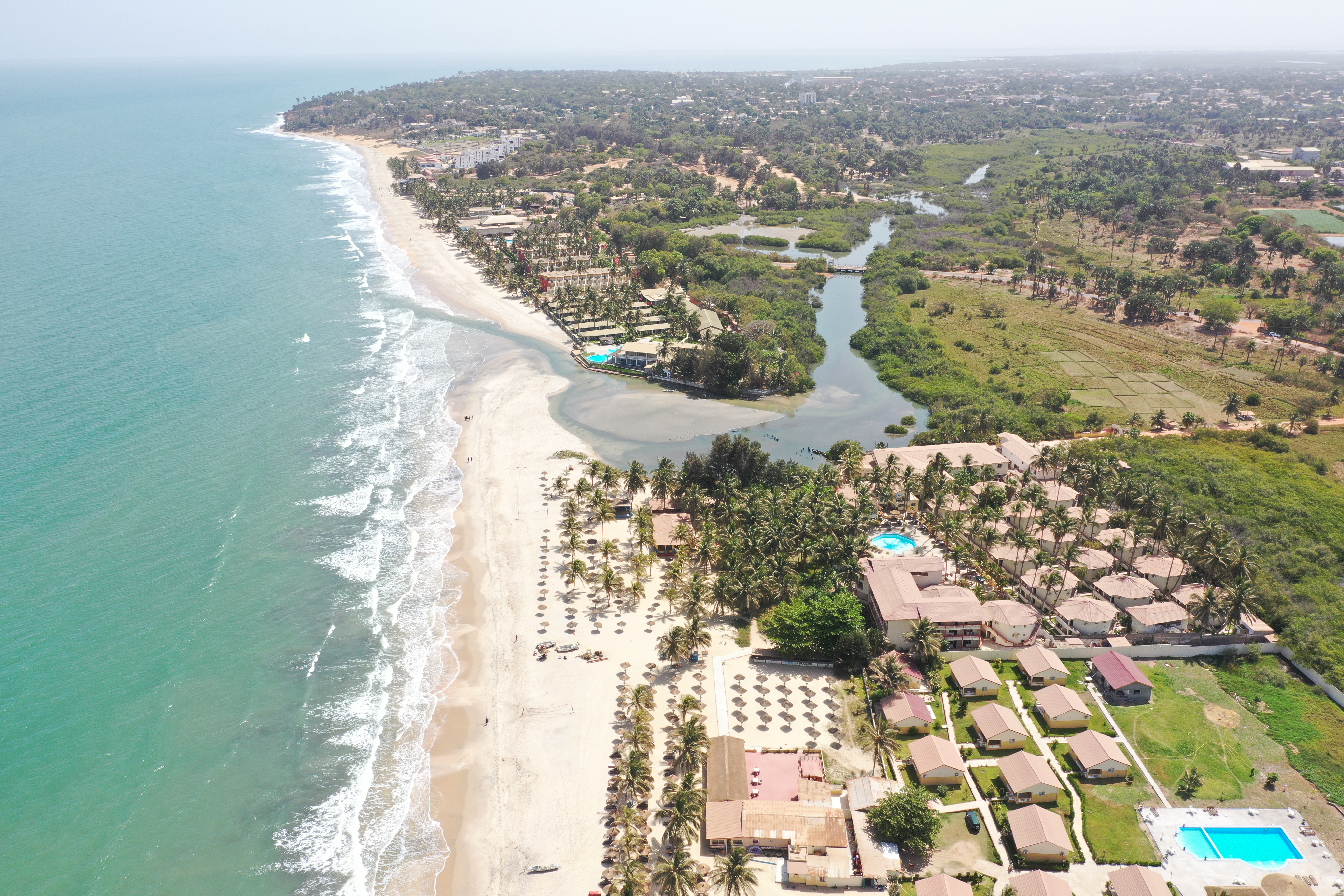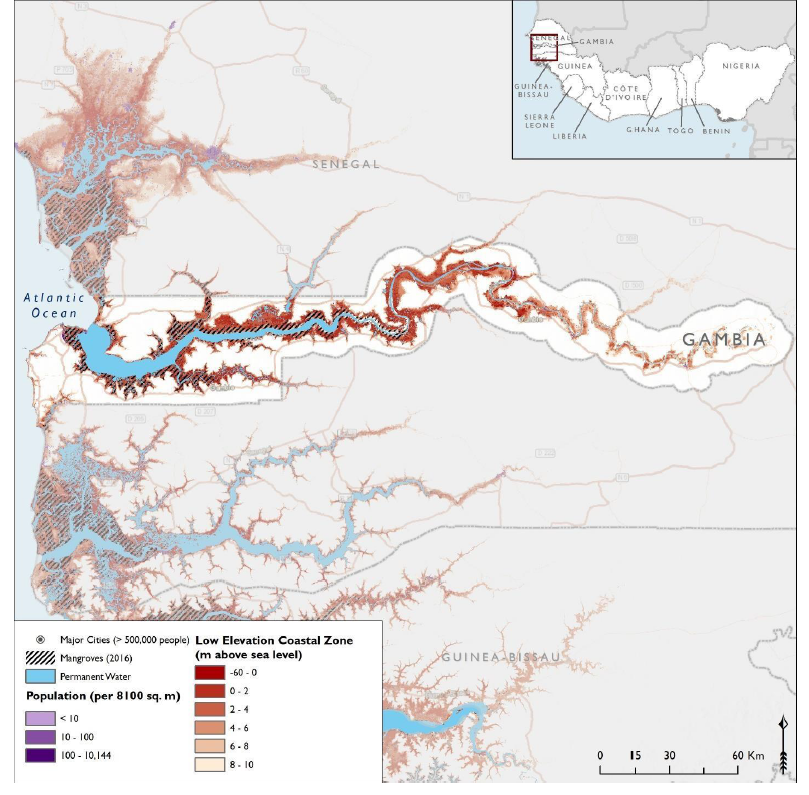 Capital: Banjul
Total Population: 2.1 million
Coastal Population: 185 thousand people living within 1km from the coast
Urban Coastal Population: 950 thousand 
Coastline: 80 km of open coast and 200 km of sheltered coast
Coastline Zone of The Gambia
The coastline zone of the Gambia is characterized by not only 80 km of open coast with the Atlantic Ocean but also the brackish water environments that extend about 200 km inland along the Gambia River. The coastal habitats consist of rocky/ red cliffs, sandy beaches and dunes, mangrove forests, brackish lagoons, mud flats and living reefs. Its rich biodiversity is however threatened by habitat destruction from unregulated urbanization, agricultural expansion, uncontrolled burning and wood utilization, which has also led to degradation of ecosystem services.
The effects of climate change in the coastal areas include coastal erosion, submerged beaches, salt intrusion into mangroves, saline intrusion into aquifers, damage to the coastal ecosystems and estuaries, and widespread destruction of infrastructure throughout the Greater Banjul Area (GBA).
Action Planning
A comprehensive flood and coastal risk assessment was completed for the Greater Banjul Area (GBA) in 2019-2020, which led to the identification of five hotspots and a respective list of priority risk reduction interventions. In the context of the regional West Africa Coastal Areas (WACA) Management Program supported by the World Bank, the Government of The Gambia who was confirmed to be part of the second investment phase, selected Kotu stream area as the priority project intervention area. During the project preparation, site visits to ground-proof the modeling results, stakeholder and community consultations, institutional capacity and regulatory assessment and gender assessment, will be conducted to better understand which set of interventions would be more effective.
WACA Interventions
"Kotu stream" which is a 2,476-ha area with an estimated population of more than 200,000 people in 2020, mixing urban fabric and coastal features, was selected to be the primary target area of intervention, and is under the jurisdiction of the Kanifing Municipal Council in the Greater Banjul Area. The activities will combine hard and soft measures (e.g., works and institutional strengthening), physical and social investments, and will propose hybrid solutions promoting nature-based solutions. Risk reductions that are envisaged include:
Fluvial flood risk reduction measures:
Enlarge/renew bridge / culvert openings (focus on 5 critical structures) in Kotu Stream

Clean and reprofile Kotu Stream and flood plains

Develop plans for accessible green river parks, engaging stakeholders 
Pluvial flood risk reduction measures:
Improve/implement primary drainage systems; this includes road drains (box drains, pipes) and gullies. Since hardly any drainage is existing in the current situation, a primary network of 10-30km is assumed to be constructed.

Improve/implement secondary drainage systems through a pilot study such as "Sponge city" measures (including SUDS measures such as retention ponds/tanks/wetlands/parks, water squares/sunken plazas, (bio)swales, tree tranches, side walk planters green roofs and gutters, soakaways, water harvesting, green infrastructure/planting. This will be a large-scale implementation of a very large number of small-scale solutions that is combined to a large solution.
Other interventions aiming at improving the living conditions and promoting the sustainable development of communities living along the Kotu stream will be undertaken including among others supporting the cleaning of the area and building resilience of the communities addressing men and women equally. Targeted institutional strengthening and policy frameworks around climate risk management and integrated coastal management will be provided.
Key agencies
The Ministry of Environment, Climate Change and Natural Resources (MECCNAR) is the lead implementing agency for the WACA project. It will rely on a project implementation unit to coordinate project activity execution, with support from relevant institutions It is worth noting that the Flood and coastal risk assessment was conducted with technical leadership from the National Disaster Management Agency, through a consultative process with all sector ministries and institutions concerned.
Contact
Bubacar Jallow, director of the Central Project Coordination Unit (CPCU) at Ministry of Environment, Climate Change and Natual Resources (MECCNAR) is the WACA coordinator.